Months ago I was in Switzerland with my boyfriend. We couldn't afford anything so we mostly walked around the city with our guide book and took naps in our Ibis-budget hotel room.  Right after one of those naps an idea hit me:
– "I feel like Lonely Planet is telling us everything and nothing about this place"
– "What do you mean?"
– "Wouldn't it be cool if we could experience a city  not only through historical macro-events but also through the microscopic, personal stories of its inhabitants?"
Back in Berlin I kept thinking about it. Unlike any sane person, when I have an idea I can get awfully obsessed and drag the people around me down a spiral of insanity. In this case, the designated victim was my friend Simone, who happens to be a web-designer and seemed like the perfect guy to push into my new project.
Nine months later, Mikroskop was born.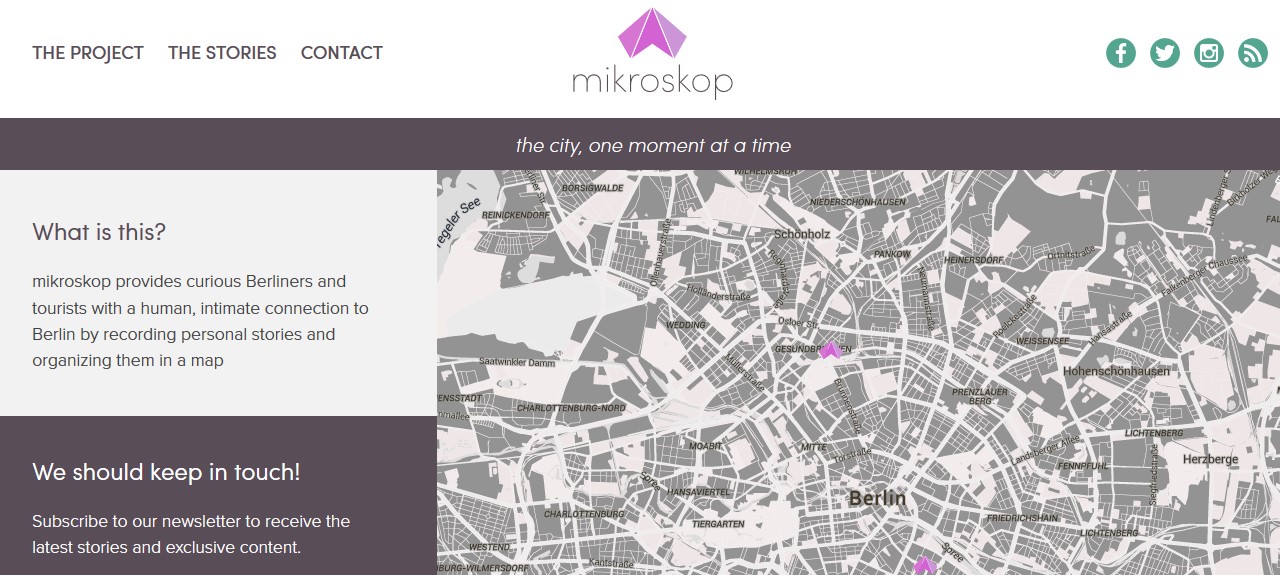 Mikroskop is a website that provides curious Berliners and tourists with a human, intimate connection to Berlin by recording personal stories and organizing them in a map.
It is also a huge challenge, because 1) it involves a kind of storytelling and technical abilities that I'm not mastering (yet) and will have to learn over time 2) it takes my comedic security blanket and sets it on fire, pushing me to find the heart of each story in a whole different way 3) it focuses on and exposes people who are not me, which makes everything scarier and more delicate.
On the other hand, it's refreshing to have a creative project that pushes me to talk to people instead of being alone with some cookies in front of a laptop, which is what writing in general is about.
This project is my love letter to Berlin and to the tiny magic happening every second of every day in each of its corners. If you're reading this you might be part of that magic and I would be extremely glad to hear your story. Just hunt me down on social media or write me an email!