You guys, isn't Netflix's Stranger Things the most amazing tv series you've seen this year? It has EVERYTHING: 80s nostalgia, Matrix-like scenes, children riding their bikes, an amazing soundtrack, breathtaking cinematography and FREAKING WINONA RYDER!
Everything.
I started watching it without having seen the trailer first, partly because lately I'm hating all trailers and party because the presence of my girl Winona seemed more than enough of a reason to give it a chance.
I finished the pilot with a pretty clear idea of what the series was going to be: a pleasant, goonies-like childhood adventure with a hint of tension and a bagillion references to the decade I was born in. It sounded like  uncomplicated fun for all ages and I was up for it!
One episode later, my feelings started to change.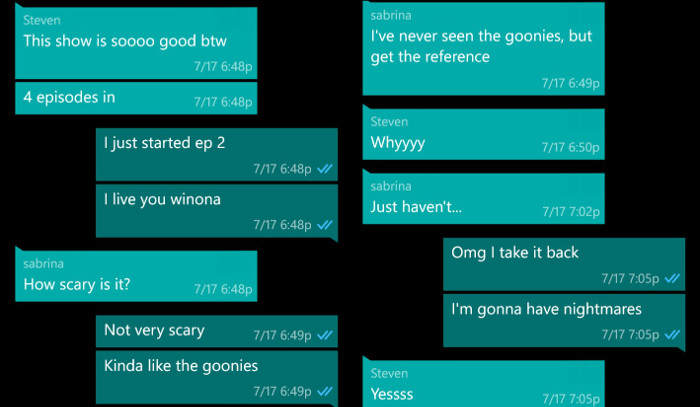 The situation escalated quickly.
I'm about to start ep 3 of #StrangerThings and someone is gonna have to sleep with me tonight. I'll PM you my address.

— Federico (@amorequietplace) July 17, 2016
Is there a Grindr for finding someone who can hold your hand while watching #StrangerThings ? — Federico (@amorequietplace) July 17, 2016
#StrangerThings Episode 5: I need valium and a therapist

— Federico (@amorequietplace) July 17, 2016
In the haunting solitude of my apartment on a Sunday afternoon, I found out that Stranger Things is actually scary as fuck. While my desperate cry for help was going unheard, I knew I should have pressed pause right there, but that mix of love and fear growing inside of me just wouldn't let me.
I watched the whole thing like I was in a trance and once the final end credits rolled out I realized that A) the room was now completely dark and B) I had to go to bed soon.
Alone. Read More