After watching La La Land, I thought:
One Ryan Gosling, please

— Federico Prandi (@amorequietplace) January 8, 2017

For a long time I had suspected he's the most perfect man who's ever walked the planet Earth and now I was facing the ultimate evidence of that. The immediate, natural response to this sudden enlightenment, was of course to take Ryan Gosling to be my lawfully wedded husband, to have and to hold, from this day forward, for better, for worse, for richer, for poorer, in sickness and in health, until death do us part.
You don't believe me? Take a look at this perfectly legal marriage certificate: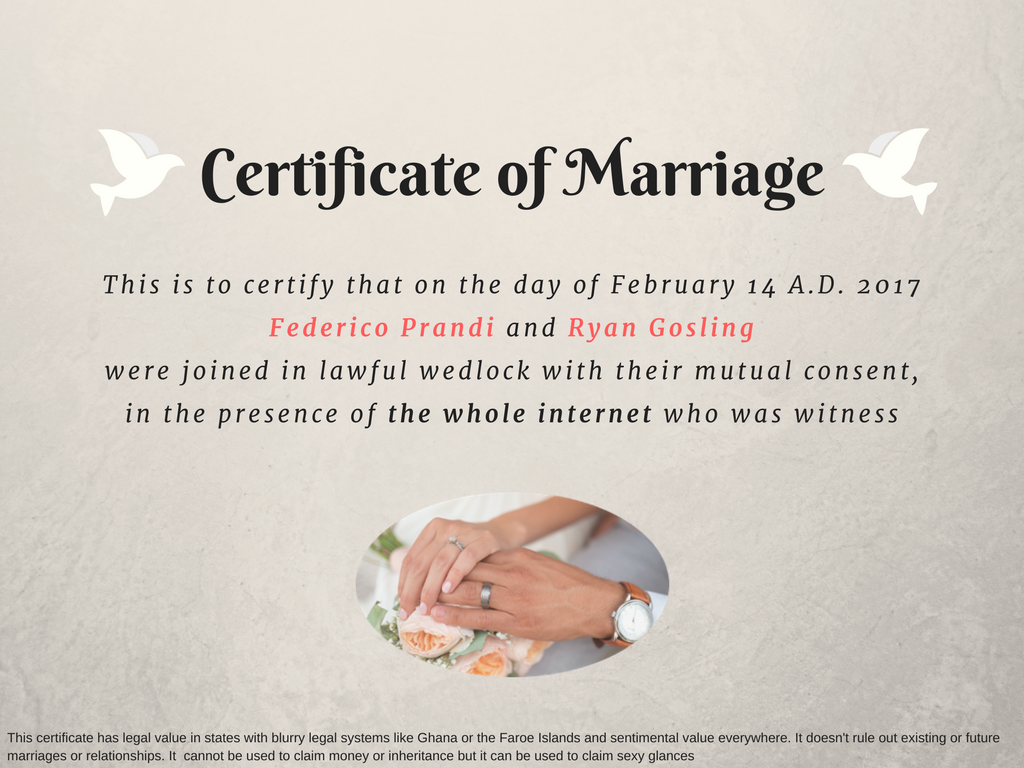 I was filled with joy and gratitude, although a part of me started feeling bad for my boyfriend Stephen. Did marrying Ryan Gosling in the heat of the moment constitute the end of our life together?
It didn't feel that way. It didn't even feel that personal, to be honest. I just came to realize, with more and more clarity, that being married to Ryan Gosling should be a fundamental right of every man or woman.
The western world is entering dark times in which they'll try to take away from us everything older generations fought for. We'll cross a point of no return after which none of us will be heard, respected or even free. And once that happens, I tell you, we all better be in a comforting marital relationship with someone who's hot, perfect and learned how to play the piano in weeks.
You can require  your free, legal certificate of marriage with Ryan Gosling by reaching out to me via Twitter, Facebook or through the form below by the end of February.
[sform]2[/sform]
Now don't be a possessive bitch and share this with everyone you know who could use a holy matrimony with Ryan.
Save
Save
Save
Save
Save
Save
Save
Save
Save
Save
Save