The Future of Storytelling
is a Massive Open Online Course (MOOC) born and developed at the University of Applied Sciences of Potsdam, Berlin.
The course
is open to everyone in the world (who speaks English) and – if you enrol – it gives you weekly writing assignments. This is one of them.
TASK:
Last week we have dealt with character profiles for characters that already exist. This week we build on exactly this task by using your knowledge about how to create fictional characters to create a new fictional one.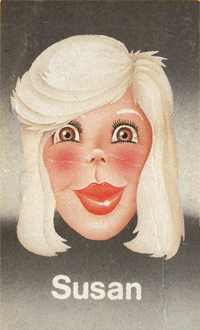 I'm afraid that is not the correct answer – said the man inside the tv. Gertrude Mueller shook her head without taking her eyes off the black outfit she was busy ironing. On the tv screen a text saying 10.000 Euros got smashed by a giant 3D hammer and dissolved into the close up of a sexy girl who was about to cry.  Ougandougou. That's the capital of Burkina Faso – said Gertrude with a scolding tone. She knew more than that whiny young girl and that made her feel good for a second. Then she realised – just when the last fold was about to be defeated  – how futile the concept of knowledge looked at age 59. Almost dangerous, 'cause  the more you know and the more you're condemned to forget. Her mother used to tell her, in the south of Germany, that being old is like being a child, but that sounded now pretty ridiculous. Children's brains are empty boxes waiting to be filled. Ignorance is bearable for them, exciting. Forgetting – on the contrary – is like carrying a faulted shopping bag all the way home and realise all the groceries got lost along the way. Mortifying. Something similar to getting home after your husband's funeral – thought Gertrude – and bump into all that unfillable space. Being alone in their house is something she had problems dealing with when Mattias passed away, almost three years earlier, and now she couldn't even remember where their wedding photo album was. I guess he'll slip out of the shopping bag too, eventually – she thought. She hanged her office outfit in the closet and set the alarm to 7 sharp: September is when everybody fills out their tax declarations and thus Geretude's busiest month of the year; better be sleeping soon.  She was gonna put her tall german self in bed and she was gonna slip some fingers inside her pussy and close her eyes, and the fingers were not gonna be her husband, just 'cause they never were. Some thoughts, you can't help – she knew it. Gertrude  would have closed her eyes and seen Aunt Renie, this quirky charming woman she helped for over twelve years with her taxes. They met very often in Gertrude's fantasies but just one day a year in the real life world, and the next day was going to be that day.