Is it weird to constantly, obsessively wonder about what makes us, us?
Why are some people atheist and other stainless-ly faithful? Stoners or clean? Why do some people go to bed early and others only feel like they exist in the quiet of the night? And how can anyone seriously like pickles?
I guess if we could pinpoint the reason for everything we are, the universe would be as simple and comprehensible as that one Sudoku I was once able to solve, found inside Winx Magazine at a middle school slumber party. Three years ago.
But it's not that simple. We – humans – have to accept that we'll never have an answer and I – Fede – have to resign to not knowing why I dislike the color red, why Joanna Newsom's voice makes me tick and why I'm writing this blog post at this very moment.
I will never know the exact reason behind any of these things. Except for one.
FLASHBACK – SUMMER OF 2015, LUNCHTIME – THE OFFICE
ANNE
I just want the weekend to come. It's going to be me, a bottle of wine and GTA.
CO-WORKER 1
Yeah!
CO-WORKER 2
Great plan!
CO-WORKER3
GTA is the best!
ME
What exactly is GTA?
I am NOT familiar with video games. Not at all. I have played some when my sister, in the nineteenth century, brought home an Amiga and then quickly lost interest once I figured playing video games required patience, reflexes and the ability not to have a mental breakdown every time you lose.
ANNE
You seriously don't know Grand Theft Auto? The most popular game of, like, ever?
ME
I don't….
ANNE
….
ME
….but I know other games. Better games, in fact. Like, like……RAINBOW ISLANDS!
ANNE
What's that?
ME
Oh, that's amazing! It's about a chubby kid, whose mission is to visit a bunch of islands and kill the enemies who stand on his way.
ANNE
What kind?
ME
Uh?
ANNE
What kind of enemies? Is it aliens? Werewolves? Genetically modified soldiers?
ME
It's bugs. Like worms, bees and occasionally butterflies.
ANNE
So you're saying that this guy goes around throwing grenades and firing guns against regular insects just because he's scared of them?
ME
No, you dummy! He does NOT fire weapons! He kills them with rainbows which emanate from his body! This way he can collect diamonds, necklaces and design vases!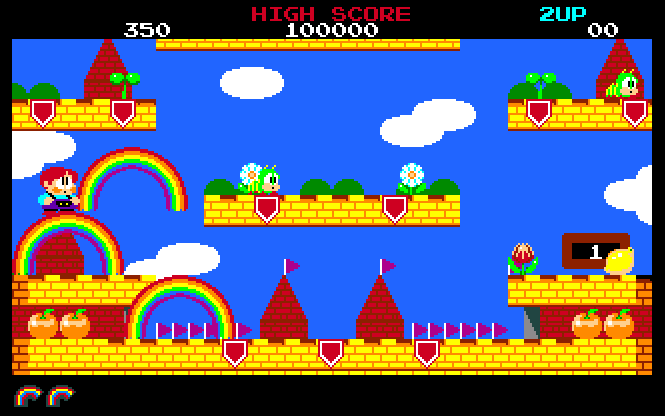 Rainbows.
Insects.
Design vases.
Fifteen years spent interrogating myself on the nature of my nature and on a lazy, sticky, summer afternoon all the pieces precipitate into place. Rainbow Islands made me a homosexual. Read More