Once upon a time, in a faraway land Neukoelln, lived a princess with long blonde hair.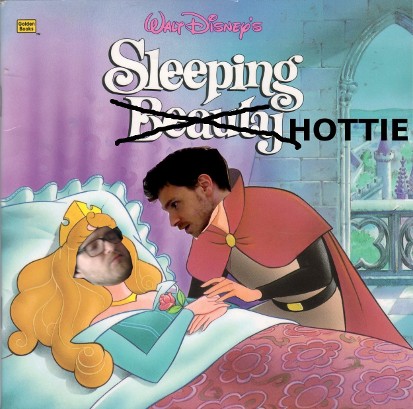 Ok, you got me guys: this is not a fairytale, but nevertheless I think it's time to tell you the whole (exponentially exaggerated) truth about the weird sleeping habits of my boyfriend.
Basically my boyfriend thinks he has problems sleeping, but he actually doesn't. In fact he's so good at that that sometimes I worry he might fall asleep while blinking. We've slept together in different beds, cities, rooms, circumstances and it always took him less than one minute, from the moment he closed his eyes, to fall into Morpheus' arms. Less than one minute, even though he drinks daily quantities of coffee that would probably keep me awake for eight months, giving me the opportunity to do the Murder, She Wrote marathon I've always wanted to do.
Of course we all have our idiosyncrasies, and there's nothing wrong with that. For example, every time I hear about some deathly exotic sickness, I develop ALL the symptoms for at least five minutes and I also spend hours watching Youtube video tutorials on how to perform heimlich maneuver on self. Just in case.
The very impressive thing, though, is how competent on the matter he is. He knows every technique ever published by authoritative science sources Focus and he's not scared to use them. I don't really mind waiting every night till he's done curling his toes, listening to Enya while rubbing his nose, drinking a glass of cherry juice and rubbing his belly, but I start to find a little annoying "podcast time". 'Cause in order to fall asleep (he thinks) he needs to listen to some podcasting person speaking to him.
One night, I remember, we had a program about astronomy. He was off to dreamland before the host could even start speaking and I had to listen all about these meteorites which could or could not collide with the Earth. It was the most terrifying night of my life. I couldn't sleep for days.
Happily ever after and stuff.
Oh, wait, a quick note: I think I won't write in here for a while 'cause I have people coming. I'll probably be more active on the facebook page , so remember to check it out every now and then!