Oops.
Looks like I'm a alcoholic I haven't returned my empties in some time.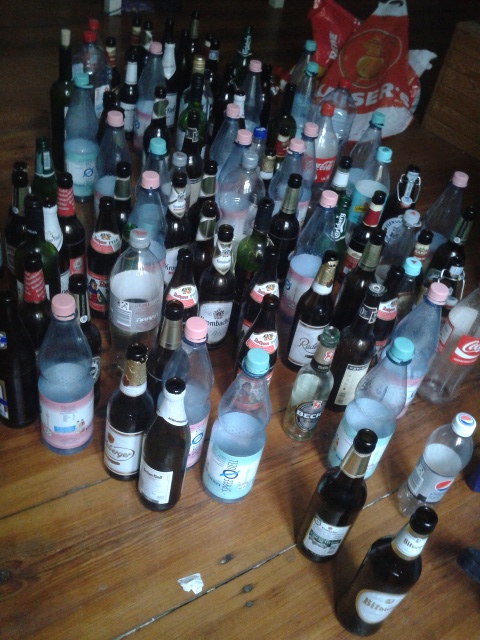 I wanted to leave a considerable inheritance to my future children cats, but I have three friends coming over in two weeks and I guess the choice is between them and the bottles.
For all these reasons, I've decided to host my first GIVEAWAY
In order to participate you need to like my Facebook page, share this post on Facebook and leave a comment below saying how much money you think I'm gonna get by returning these bottles.
The person whose guess is closest to the actual sum will win the receipt returned by the Pfand-Machine (I think it's gonna be hundreds of thousands of Euros, spendable at Kaiser's) and an exclusive print of one of my favourite words (there's a lot more!).
If there's a tie, one random person will get the receipt and the other(s) some used underwear of mine.
If you don't win, you can still ask for a print of one of my favourite words 'cause I have tons and I don't really know what to do with them. Just send me an email with your name and address at amorequietplace [a_t] yahoo [d_o_t] com
The contest will close Sunday April 14th at 23:59  and it's open to everyone who has an address in Europe, except for places very difficult to spell like Lichtenstein.