As you may or may not know, Tori Amos is soon releasing a new record called Unrepentant Geraldines (every time I hear the title I automatically think of this blog post. Every. Single. Time. But that's very Off-Topic, if you ask me).
Tonight she happened to give a Record Release Party in Berlin and I happened to be there.
Hype.
It was all very mysterious and I didn't know what to expect. The place was close to Volksbuehne (one of the coolest venues in Berlin) and – even only by the name – it sounded upclass. So upclass that this morning I borrowed stole my boyfriend's shoes just to be sure they'd let me in.
The fact I went by myself annoyed me just until I found nice interesting people to talk to the bar. When the waiter asked me what I wanted my tongue refrained from automatically replying "a glass of water. Tap" and my highly analytical mind noticed that none of the people standing in front of me had extracted their wallet. It could mean only one thing.
– A Glass of red wine, please
– Oh, I'm so sorry, I made it too full.
– LOL. Right. See you in five.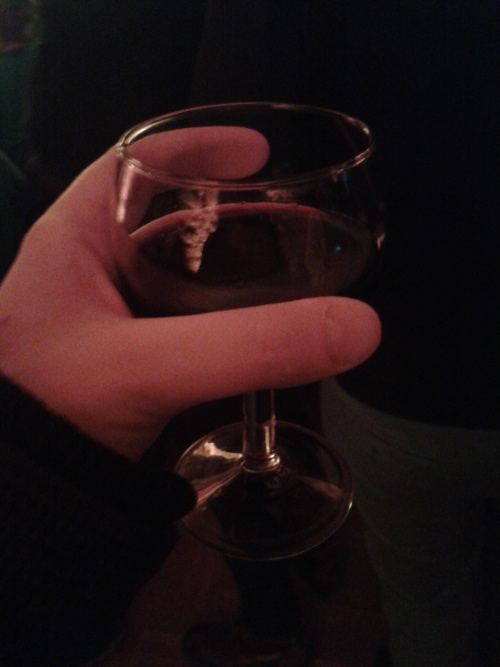 I am not used to free booze, honestly; I'm used to places where you can have VERY CHEAP booze, but the difference is gigantic.
I can only grow up to be the uncle that shouldn't be allowed to the  liquor cabinet, we all know that's true.
Now. Already tipsy, I entered the room where the mini concert was going to take place. The black Boesendorfer was there – shiny – and the setting was overall very Berlin (aka they haven't changed the wallpaper in four hundred years).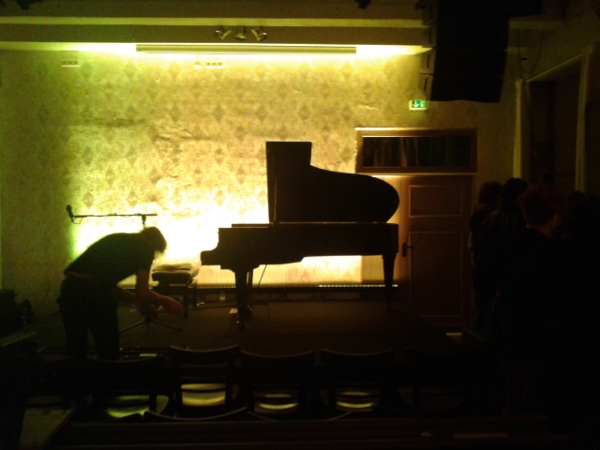 Tori entered the room in a sober black dress and a pair of glasses that made me wanna cast her as a regular in the next season of Mad Men.
She said half a word and started playing (solo):
1) Parasol
I'm fond of this one. It's one of the least cryptic songs Tori Amos has ever made. Very visual, a perfect opener, and it carries an emotional turmoil shared only by a few others in that same record. When I've heard Unrepentant Geraldines has been massively inspired by paintings I thought about songs like Parasol and Garlands and put my hopes up.
2) Lust
I wasn't expecting this. It's one of the very first songs (by Tori Amos) that I've heard and loved, and I don't remember having heard it a lot during concerts.
3) Trouble's Lament
"You'll probably never hear me playing this song with the piano ever again. It was born like this but then it changed after I met this friend of mine who plays guitar"
That's what I call a bad influence.
4) New Song
"I wrote this while waiting for a friend of mine on the bank of an American river. He was very late, so the muses came to visit me. By the time he arrived the song was finished".
If she had waited next to a river in Berlin the story would have been more like "He was very late, so the rats attacked me. By the time he arrived half of my body had already been devoured".
This is a slow ballad about (I think) a woman called Lorelai who's waiting for the love of her life (the kind of woman who in really real life would call a tarot reader on tv in the middle of the night to ask about her sentimental life).
It reminded me of older stuff and most importantly sounded real, authentic, inspired. Ok, maybe it didn't remind me of Cooling as much as of Roosterspur Bridge, but hey, that was a good piece of music too!
5) Ribbons Undone
I don't like this one. Really.
6) Take to the sky
Bagillions of years later, I'm still shocked Take to the sky never made it into a record. Also, bagillions of years later that's still as powerful and convincing as the first time. Especially 'cause it came with a nice improvisation that said (in my head) Is there room in my heart for you to fart as much as you want?.
She then ran out.
People either left the building or started lining up for what (I guess) would have been a autographs session.
I was drunk, sleep dreprived and starving, so I dragged myself out.